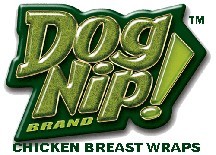 -One of the most popular treats from the Free Range Eco Naturals line
-Chicken breast wrapped around apple, banana, beef liver, carrot, or sweet potato
-Baked at a low temperature to maintain maximum nutritional value and the soft, chewy texture dogs love
-Can be given whole to larger dogs, or cut into pieces for small dogs and training
-Stand-up pouch bags can be placed on shelves or on hanging displays
-Product of China

Free Range Eco Naturals Return Policy
Free Range Eco Naturals accepts returns of products directly within 30 days of purchase. click here for their Dealer Return Sheet. They will provide you with a FedEx number to return the product, and will either process a refund or replace the product directly to you. Please call us if you have any questions.